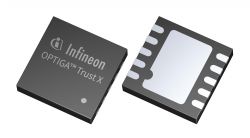 La imagen puede diferir del original

OPTIGA Trust X -40°C to +105°C
Fabricante:
Infineon Technologies
Código de coincidencia (matchcode):
SLS32AIA020X2USON10XTMA1
Rutronik No.:
SECURE1066
Unidad de embalaje:
5000
MOQ:
20000
Encapsulado:
PG-USON-10
Presentación:
REEL
OPTIGA Trust X -40°C to +105°C Descripción
With the rising number of new business and applications using cloud services and artificial intelligence, IoT connected devices have become the enablers of a new era of innovations adding a significant value to the global economy. This new business potential goes nevertheless hand in hand with new security threats: intellectual property theft, personal information may get stolen, interruption of operations compromising the business continuity, and even endangering a company's brand image and thus its existence.
The OPTIGA™ Trust X is Infineon's response to those threats. It is a hardware based security solution optimized to address IoT device's requirements: premium security, high performance, easy to integrate, supporting non-rich operating systems, low power consumption, and small packages. The product covers a broad range of use cases: authentication, secure communication, data store protection, key provisioning, life-cycle management, power management, secure updates, and also platform integrity protection.
Summary of Features:
High-end security controller
Turnkey solution
One-way authentication using ECDSA
Mutual authentication using DTLS client (IETF standard RFC 6347)
Secure communication using DTLS
Compliant with the USB Type-C™ Authentication standard
I2C interface
Up to 10 KB user memory
Cryptographic support: ECC256, AES128, SHA-256, TRNG, DRNG
PG-USON-10-2 package (3 x 3 mm)
Standard & extended temperature ranges
Full system integration support
Common Criteria Certified EAL6+ (high) hardware
Cryptographic Tool Box based on ECC NIST P256, P384 and SHA256 (sign, verify, key generation, ECDH, session key derivation)      
Benefits:
Enhanced security for connected devices protecting IP, data, and the business case
Easy integration reducing design-in and integration effort
Cost-effective deployment
Enabling new features and business models
Target Applications:
Industrial control and automation
Consumer electronics
Smart home
Medical devices
ECC

256 Bit

AES

128 Bit

SHA

YES

ECDH

YES

Common criteria

EAL6+

TPM

NO

Llave asimétrica

YES

Key length

256 Byte

ID única

YES

Memory size

10K Byte

Programmable

YES

OS

NO

Interfaz

I2C

Rango de temperatura

-40 to 105 °C

Package size

3 x 3 mm

Automoción

NO

Encapsulado

PG-USON-10

Leadfree Defin.

RoHS-conform

Embalaje

REEL
Artículo fabricante

SP001785508

ECCN

5A002

Número de tarifa aduanera

85423190000

País

Germany

Plazo de entrega del proveedor

2 Semanas