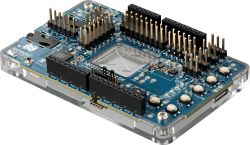 La imagen puede diferir del original

Audio DK for NRF5340 DUAL MCU
Fabricante:
NORDIC
Código de coincidencia (matchcode):
NRF5340-AUDIO-DK
Rutronik No.:
RFMCU1954
Unidad de embalaje:
1
MOQ:
1
Presentación:
INDIVIDUAL
Audio DK for NRF5340 DUAL MCU Descripción
The nRF5340 Audio Development Kit (DK) is the recommended platform for Bluetooth "LE Audio" products and contains everything needed to start development. The kit is configurable and can function as a USB dongle to send or receive audio data from a PC. It can also function as a Business Headset a broadcast receiver or a True Wireless Stereo (TWS) Earbud. For most use-cases, we recommend using two or more DKs.

Frec. Mín

2408 MHz

Frec. Máx.

2480 MHz

tasa de datos

2000 kbps

Temperatura operativa mínima

-40 °C

memoria

FLASH

Memory size

1024 kB

MCU Architectur

32 bit

Supply Volt.min

1.7 V

P(out)

8 dBm

Sensibilidad

-104 dBm

RAM

512 kB

ADC resol.max

12 bit

Canales ADC

10 no.

SPI

YES

USB

YES

I²C

YES

otros interfaces

UART QSPI

IEEE802.15.4

YES

IEEE802.15.1

NO

Inalámbrico

TRANSCEIVE

Temperatura operativa máxima

105 °C

Supply volt.max

5.5 V

Automoción

NO

RoHS Status

RoHS-conform

Embalaje

INDIVIDUAL
ECCN

EAR99

Número de tarifa aduanera

85437090990

País

Poland

Clave-ABC

A

Plazo de entrega del proveedor

14 Semanas